How do I avoid deductions from my deposit?
The best way is to use your inventory and go around the house room by room making sure the property is returned to the same condition as when you moved in. Don't worry, we will of course allow for fair wear and tear. Use our guide below to make sure you don't miss any of the most common deductions people forget.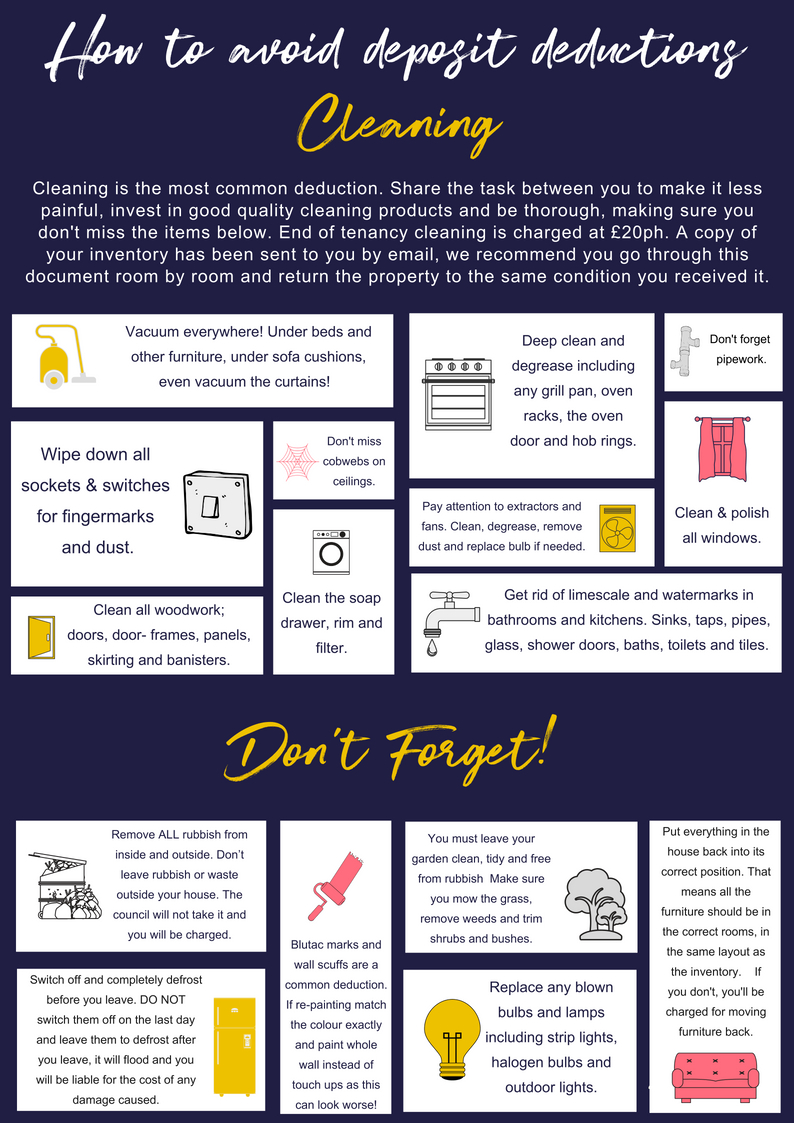 What happens if I'm not out by 7am
If you are still in the property on your check-out day and the inventory company are not able to conduct your check-out, you will be due to pay more rent until the property can be formally checked out by the inventory company. Please be thoughtful towards the new tenants, we run a tight schedule to get the house ready for them to move in and if you don't move out on time, this can have a knock on effect.
What shall I do with my keys when I move out?
All keys should be left together inside the property. Please do not hand-deliver or post keys back to our office, as this will mean they are not listed on the check-out report and you may be charged. If you have a bedroom door key, please leave the bedroom door open, with the key in the lock.
If your front door requires a key to lock when closed, please pop the rest of the keys inside, lock the front door and push the last set through the letterbox.
What do I do with my bills when I move out?
If you are on a bills-included package you don't need to do anything! Otherwise, on the last day of your tenancy, contact your gas, electricity and water suppliers to let them know you are moving out and to give them your final meter readings. If you have top-up meters for any utilities, you must ensure these have the same amount of credit as when you moved in. You can find this information on your inventory. If we have to top up payment meters, charges will be incurred. Don't forget about broadband / telephone providers, your TV license and to re-direct any post. We will not be able to collect any post for you once you have moved out.
Can I be present for the checkout?
No, we ask you are not present for the checkout. If you are still at the property you will be asked to wait outside while our independent inventory company compiles the report. This is for two reasons; firstly because they want to be able to complete the report independently without distraction and need peace and quiet in order to record it, and secondly to make sure there is no bias affecting the report. The same rules will also apply to your landlord.