Alfresco changes hands after twenty-two years!
9th October 2018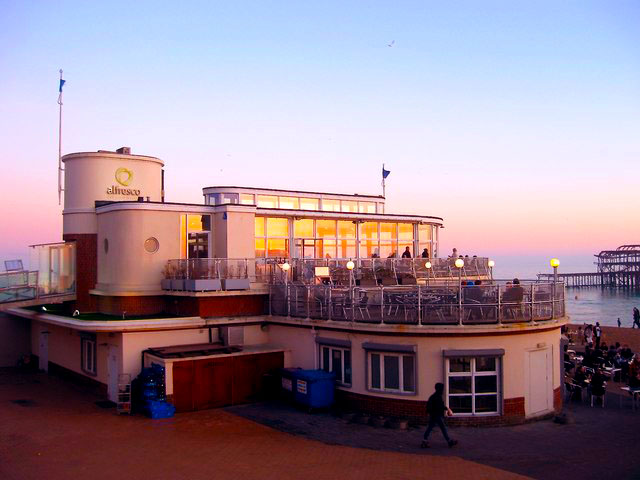 The seafront is about to gain a new addition to the ever-growing plethora of fantastic bars and eateries. What locals will know as Alfresco, close to the bandstand and British Airways i360, has changed hands to re-open as 'Brighton Beach Club' on November 30th.  They will open by hosting their first wedding under new management.
The premises were built as part of the Festival of Britain in 1951 and have had several businesses running the lease over the years.  Most recently the venue has been run by the Colasurdo family as an Italian restaurant and wedding venue since 1996. The lease has now been sold to City Pub CO. who have in the last couple of years purchased two of the cities most prominent pubs, The Lion and Lobster and the Smugglers on Ship St which has been refurbished and renamed The Walrus.
Clive Watson, chairman of City Pub Co, said: "Alfresco is a landmark site on Brighton's seafront, which superbly complements our two existing pubs within Brighton.
"We are delighted to have acquired such a well-known and prominent site, as we continue the expansion of City Pub Group".
In 2000, the Colasurdo family added a fully glazed Art Deco style restaurant upstairs and have worked hard over the years to get the restaurant to where it is now. The family are sad to go, some of the staff have been there over 20 years and some of them will be staying
Brighton Beach Club operations manager said: "This city has a lot of foodies and this is certainly the trend they are steering towards. We will be serving delicious, healthy food and trendy cocktails.
"It will be a complete refurbishment of the space and type of food served, so the Colasurdo family who has been running this restaurant since 1996 have donated everything [restaurant furniture, catering equipment and surplus food] to charity."
The Colasurdo family donated all the restaurant furniture to Martlets, who help the terminally ill and also offers support to young people struggling, they have just built a new community kitchen, so they are very grateful for the donations. All the remaining food was loaded into industrial fridge vans and donated to Sussex Homeless Support who organise the homeless kitchen for the Clocktower Sanctuary.
Charity of this sort is generally unheard of from restaurants and has been greatly received across the city, most of the furniture will be sold in Martlets charity shops across Sussex and will help to raise much-needed funds
Colasurdo family member and new general manager of the Brighton Beach Club Alexandre said: "Between all these charities we have managed to strip this restaurant and it's a great feeling that none of it is going to the dump.
City Pub Co likes to keep their venues unique and given the fact that the manager is Australian and loves Bondi Beach, expect to see some Australian beach themes going on there.