Our journey
8th December 2017
A little over a year ago we embarked on a big journey for our small business.
After thirteen years of growing from strength to strength, establishing ourselves as the largest student letting agency in Brighton, we finally found ourselves with the time to reflect on who we are and what kind of business we want to be going forward. It was an important affordance of time that can often be neglected when you're busy settling over 2,000 students into over 500 homes every year, but it's given rise to some big change in our business.
As many people familiar with us as MTM will know, we've not had the best reputation with our students. We're not shying away from that – in fact, we did quite the opposite: we've been confronting it head on. In order to understand where we've gone wrong we got on the phone to our students, our landlords and the universities. We listened. We waded through the reviews, we role played the awkward conversations we've had, and we plotted our route forward.
Our business is changing. We've been revising our processes, providing tenants with more information about what to expect upfront and more transparent communication around maintenance. We're also building a new team, who will be focused on student property maintenance – essentially becoming your go-to team for guidance, handy-man help and supplier liaison for anything that occurs in your home. One of the biggest differences for us is that we're also bringing a bit more of ourselves to the fore – many of the team here at Coapt moved to Brighton to study and some of us have even gone on to buy our first homes in the city, so we've been through it. Now is our chance to start becoming the letting agency we wish we'd had back when we first moved to Brighton: one that guides, that makes it easy and helps landlords and tenants alike keep our homes well maintained.
It's an overhaul on our communications and processes; one that is already enabling us to be more productive, to resolve issues quicker and develop better relationships with everyone we engage with. With all this change, it seemed appropriate that we revolutionise our identity to match our new vision.
Enter Coapt.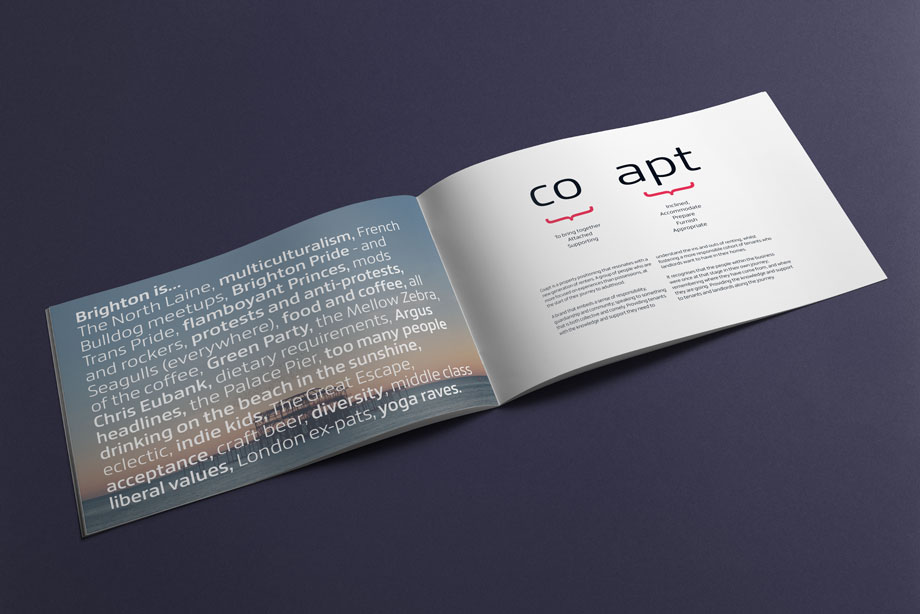 Literally meaning 'to bring together', Coapt represents our ethos to enable people to find a sense of belonging in this city. We love Brighton and everything it has to offer – whether you're a student just discovering independence or a landlord looking to find somewhere to grow your property portfolio – Brighton is a great city to be in, and we can help you make the most of it. Our new name is our new promise to you to be the best letting and sales agency in Brighton – not just in scale, but in our relationships and our impact.
This is a huge, positive change for us and the thousands of people whom we help home, whose properties we manage, and whose houses we sell. It's also not just something that will be happening overnight, it's a commitment to keep evolving. We hope that you'll be a part of this journey with us.
What do you think of our new facelift? Let us know on Twitter or Facebook 🙂