Adam's Market Insights: Pressures on property values?
21st September 2023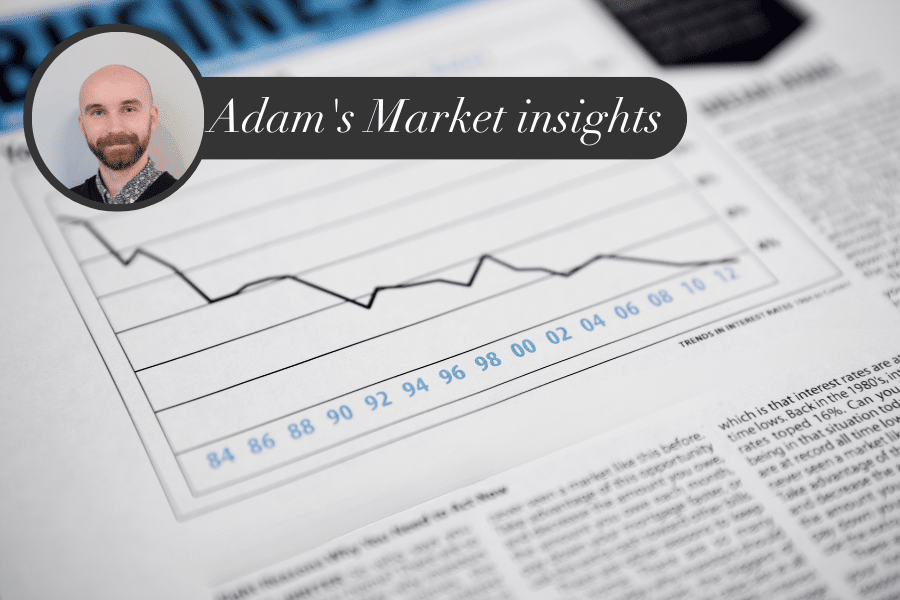 As with any market, there are multiple factors which affect the value of goods. Or to translate that to property terms, values fluctuate due to external factors. In articles gone by, I have written of some of these pressures in depth. Taking a step backwards though, what are the current main forces acting on property values and in what way? I write here with a specific focus on investment properties, though many of the below statements rein true for residential properties also.
Mortgage costs
Today (Sept 21st) it has been announced that the Bank of England Base Rate will hold. This brings an end to 14 consecutive base rate increases since Autumn 2022. Increased mortgage costs have affected the market in two negative ways.
The first is to increase supply, with many home or investment owners on variable rates, or fixed rates that came to a conclusion, choosing to sell in light of their increased, and sometimes no longer affordable costs. The second effect is to reduce demand, or more accurately, decrease the confidence of buyers. This has taken effect through some buyers having a reduced purchase power, whilst others put plans on hold all together all the while rates were on the rise.
Whilst the base rate has stopped climbing, raw ground floor mortgage costs are actually a couple of steps ahead, with major lenders having continuously lowered rates over the last few weeks. As we head towards the end of the year, mortgage costs are expected to lower further as lenders fight for market share, after so far one of the historically lowest years for mortgage applications in some time. Even where rates do not fall dramatically, at least with the increases having stopped, the confidence of buyers will build.
Legislation
Many recent news articles have cited increased Landlord legislation as a leading cause for property investors leaving the market. The most notable recent changes are to section 24 and the resulting increased tax implications, the renter's reform bill, and proposed changes to minimum energy efficiency standards (MEES).
As with mortgages, pending legislation both dilutes buyer activity through the forcing of some individuals to rethink plans and amend budgets in the face of potential new costs or considerations, whilst others put plans on hold altogether and await firmer news on government proposals.
So once more we have a factor which both adds more properties to the market, while decreasing the demand to buy.
Again there are very recent changes to speak of though. Already this week Rishi Sunak has backtracked on net-zero plans and the proposed increase to MEES, which has already been pushed back twice, now looks likely to be scrapped altogether. Along with this, bodies such as the NRLA continue to campaign for changes to the renter's reform bill. Even if only some of these pleas are listened to, most Landlord's and agents will now have had time to reflect on the proposed changes and make plans for most possible scenarios. On that, if you have any questions or concerns about the reform bill, Coapt are engaged with ongoing discussions with local authorities, professional bodies, and our clients to determine suitable provisions for all possible outcomes of the reform bill. I personally am always happy to discuss this topic and Coapt's current forecasts of this matter will unfold, please feel free to get in touch to discuss.
Rental values
… The other side of the coin.
Whilst the other points mentioned are always important considerations, when it comes to any kind of investment, the returns will be the focus. Most of what has already been mentioned are all costs, or potential costs which unsettled the equilibrium of cash flow. However, rental demand is at an all-time high, and with it rental figures. There is a well-known shortage of housing in the UK. Each time an investment property is sold to a residential buyer, or made into an air BNB or demolished to make way for HS2, or falls down due to fracking (ok so maybe not too many fall into those final lists) the gulf between supply and demand in rental housing grows, allowing rents to grow also.
This is currently a saving grace for many. Whilst rents will be no means quadruple as some mortgage costs have, the improved income will help balance the scales for many. To compound this, not only have rents risen by record levels, but they are very much expected to continue doing so. The only potential hurdle for further growth in the near future appeared to be a labour government-imposed rent cap, however, the appointment of Angela Rayner (a self-proclaimed anti-capper) seems to have quelled this possibility.
In all, there are potentially more pressures on property values than ever, and those forces are stronger than ever also, with elements acting both in favour and against values in certain instances. Notably though, and you may call it blind optimism, some of the scariest elements on this list seem to have either become more subdued or have an end in sight.
Prices have softened through 2023 so far, but with growing economic confidence in light of slowing inflation, and with lenders seeming on the brink of a rate race back in the opposite direction, we can be confident of a stopping of reductions at the very least, even if growth does not come back to use for another 12-18 months.
As always, if you have any questions at all in relation to this article, or would merely be willing to entertain some further ramblings of this lowly estate agent, please do get in touch.
Adam Coffin
Senior Sales Consultant
adam.c@coapt.co.uk
01273 645797 Extension: 2020